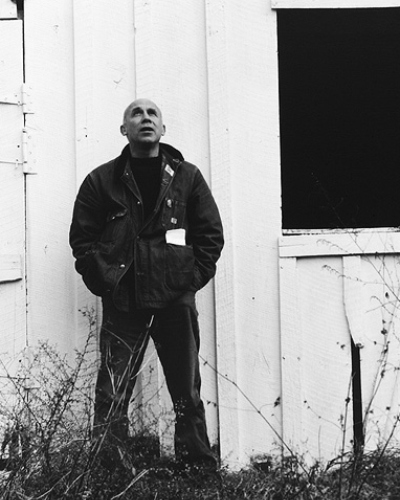 Thomas Merton (1915-1968) was a Trappist monk at Our Lady of Gethsemani Abbey in Kentucky and writer. His writings include such classics as The Seven Storey Mountain, New Seeds of Contemplation, and Zen and the Birds of Appetite. Merton is the author of more than seventy books that include poetry, personal journals, collections of letters, social criticism, and writings on peace, justice, and ecumenism.
Thomas Merton was born in Prades, France. His New Zealand-born father,Owen Merton, and his American-born mother, Ruth Jenkins, were both artists.  After a rambunctious youth and adolescence, Merton converted to Roman Catholicism whilst at Columbia University and on December 10th, 1941 he entered the Abbey of Gethsemani in Kentucky, a community of monks belonging to the Order of Cistercians of the Strict Observance (Trappists), the most ascetic Roman Catholic monastic order.
During his last years, he became deeply interested in Asian religions, particularly Zen Buddhism, and in promoting East-West dialogue. After several meetings with Merton during the American monk's trip to the Far East in 1968, the Dalai Lama praised him as having a more profound understanding of Buddhism than any other Christian he had known.
The Center for Interfaith Relations is proud to sponsor the Thomas Merton Prize in Poetry of the Sacred, inspired by the legacy of Thomas Merton – monk, poet, hermit, activist, artist and interfaith pioneer – whose life continues to inspire millions.
For over ten years, the
Poetry of the Sacred
contest has received thousands of submissions touching every aspect of spiritual life. Poetry has been called 'the language of the soul' and this annual contest encourages poets to awaken the reader to the deep meaning and beauty of a contemplative life. Poems are evaluated based on literary excellence, authenticity and spiritual tenor.
The 2019 Poetry of the Sacred Contest is will be open for submissions through 11:59 PM EST on Monday August 12, 2019.
This year's final judges, Phyllis Cole-Dai and Ruby R. Wilson, will select three honorable mentions to receive $100.00, and one winning poem to be awarded the $500.00
Merton Prize in Poetry of the Sacred.
The winning poem will be published in an upcoming issue of
Parabola Magazine
, an internationally recognized magazine devoted to the sacred.
Entry fee of $15.00 per one poem, non-refundable. (Some entry fee scholarships are available on a limited first come, first serve basis. Please e-mail

will@interfaithrelations.org

for details.)

Online submissions only. (If you are unable to submit online, please e-mail  will@interfaithrelations.org

 or call 502.583.3100 Monday-Thursday 9am-5pm EST.)

Submissions should be one single piece of work.  Please do not include multiple poems in one entry.

Submissions should be less than 1000 words.

Submitted work should be

unpublished

. Simultaneous submissions are expected and welcome.

Poem must be

anonymous

—the author's name or address must not appear anywhere on the attached document containing the poem
A final poems will be selected mid-September and all applicants will be notified of the winning poem and three honorable mentions via e-mail.  Announcements will also be made online and through the general Center for Interfaith Relations and Festival of Faiths email communications.
The Center for Interfaith Relations' mission is to celebrate the diversity of faith traditions, express gratitude for our unity and strengthen the role of faith in society through common action.

The Society for the Study of Myth and Tradition is a not-for-profit organization devoted to the dissemination and exploration of materials relating to the myths, symbols, rituals, and art of the world's religious and cultural traditions. To this end, the Society is the publisher of Parabola Magazine.